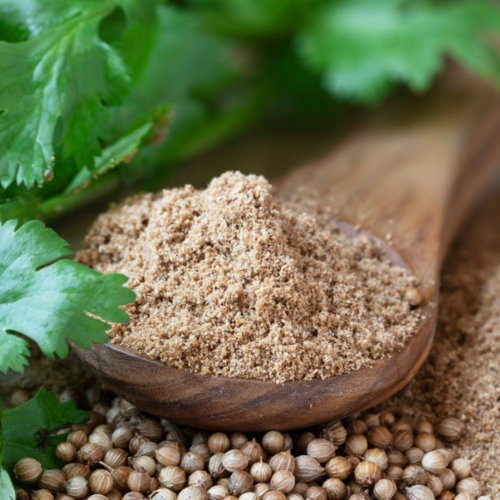 If you look closely at Indian cuisine, you will find Coriander as one of the essential spices. It is added to most of the dishes and has a savory and pleasing aroma. Commonly known as "Dhaniya powder", Coriander is considered one of the world's oldest spices. Just sprinkle some coriander powder, and it will blend to add exciting flavor to your curries.
Besides that, it also has many benefits, such as relieving digestion issues, being an excellent remedy for fever, and working as an antioxidant. Moreover, it provides a soothing relief as a summer drink, and Coriander powder also detoxes your body from heavy chemicals.
Like any other ingredient in your kitchen, you can spice up the food with this subtle flavor spice. Besides Indian cuisine, you can also use it for Mexican Spanish and Latin dishes. It can be easily paired with spices such as chili powder, cinnamon and cumin.
So, let's discuss nine recipes that are incomplete without coriander powder -
Sprinkle Coriander powder over fried food
Coriander powder and potato are the best pair you have ever tasted. The right proportion of herbs and spices would jazz up the potatoes. To build up a flavour, you need to have a perfect blend of Coriander, cumin, garlic, and paprika.
After you have fried the potatoes, you must add two to three spoons of coriander powder to enjoy a heavenly taste. You can try this with any fried item until it turns golden brown and crisp. You can also add seasoning if you prefer. Other than this, coriander powder is also paired with "Alu Gobi", "Alu saag", etc.
Add Dhaniya powder to soup
Coriander has an earthy flavor which can be combined perfectly with sweet carrots. The process of making soup remains the same; all you have to do is after you have cooked the diced carrot add one tablespoon of Coriander in it.
Then, add the vegetable broth, and finally, you can add grated ginger to provide a warm and comforting taste to the soup. Other than this, you can also prepare carrot coconut salad, healthy carrot avocado salad, and Thai carrot soup with Dhaniya powder.
Spice up grilled foods - Add Dhaniya powder while cooking
Eggplant is another vegetable that perfectly blends with Coriander and enhances the flavor. While preparing this, you must add all the masalas and coriander powder to the cooking pan. Then, cook for a few minutes.
After that, add eggplant and cook until the vegetable turns tender and soft. Serve when hot and experience the best meal ever. Other than this, you can also try eggplant curry with chickpeas, Iranian eggplant, eggplant garbanzo stew, etc.
Add Dhaniya Powder to Rice
Have you ever tried Spanish rice? It is a perfect combination which can be paired with coriander powder. This meal is prepared using brown rice where "haldi" or turmeric is used to give a yellow shade, and you can also add saffron. Other than Coriander, cumin is used to enhance the flavors perfectly.
The recipe is relatively easy - You need to add onion, bell pepper or green olives. Stir fry them, then add rice, along with the vegetables coated with oils. Finally, toss it with cumin, coriander and pepper. Lastly, add bay leaf and water, let it boil, and you can add seasoning based on your preference when the rice is fluffy. Other than this, you can also try tofu scramble, tortilla lasagna and rice tacos with Dhaniya powder.
Marinate with Coriander powder
If you love non-vegetarian dishes, you cannot deny the combination of chicken and Coriander. You must marinate the chicken with Coriander, which would impart a fantastic combination of taste, flavor and aroma.
Along with that, you can also add yoghurt and different seasoning spices. All you have to do is cook it until the chicken gets soft and tender. You can try this recipe with any other meat items, such as lamb chops or murgh chicken.
Prepare stew with coriander powder
It might be quite surprising to combine fennel and orange with Coriander which has a savory flavor, and actually, it forms a contrasting pair with sweet orange and fennel. All you need to do is toss these vegetables and oranges in a pan and combine them with lime juice, olive oil, cumin and Coriander.
You can also add salt and pepper to taste. Finally, add fennel and let this slaw for at least 30 minutes before serving. This can be a break out of your routine if you love experimentation.
Add Coriander powder to South Indian dishes
Many fried south Indian dishes are incomplete without coriander paste. You also need coconut and red chillies, which would create the base for the dish you want to cook. You can also add whole spices to add flavor and mustard seed to enhance the taste. This would be light on the stomach and allow you to enjoy your meal.
Add Coriander powder to hummus
Hummus is quite popular because it provides a soothing experience for your tastebuds and is also quite healthy. You have to start by adding Dhania powder to the hummus; you can also add fresh coriander leaves. You can also add lemon, a great fat loss recipe. Overall, it would brighten your appearance. Moreover, you can easily buy Dhaniya powder online.
In sweltering heat, a smoothie would work like magic, and if it is made out of coriander powder, it comes along with many health benefits. You can prepare a smoothie out of fresh cucumber and add a pinch of lemon juice to it. Keep stirring and add coriander powder to it. Finally, store it in the refrigerator and serve it chilled.
Conclusion
Starting from fried food to smoothies, you can add Dhaniya powder. We bet you never knew these secret tips to make the food platter sumptuous. So, now that you have a lot of recipes to try out order a fresh packet of Coriander from
JK Cart
. Try these recipes and experience how a simple spice from your kitchen like "Dhaniya powder" can turn the food into an extraordinary experience.