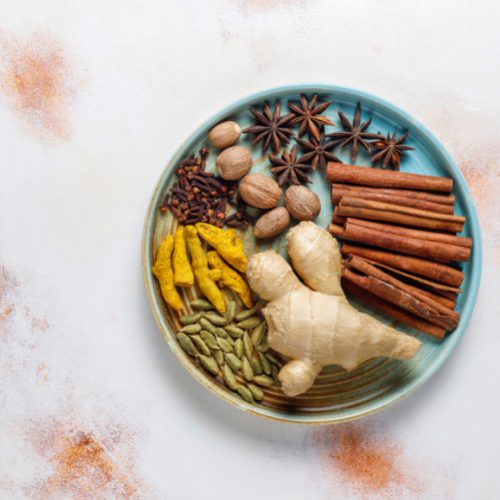 In the culinary world, garam masala, an Indian spice blend, has a long and illustrious history as a dominant ingredient. It is a pleasant seasoning with a wide range of applications and, as an added bonus, it supports general health. Soups, stews, curries, and casseroles frequently contain them.
Black and white peppercorns, cloves, cinnamon, bay leaf, coriander, cardamom, fennel, and nutmeg are among the components that are typically included in garam masala. The body can greatly benefit from garam masala from the qualities of these nutrients.
Since every Indian household makes garam masala to suit their own unique tastes and preferences, there is no set recipe for making it. The consensus among Indians, however, appears to be that homemade garam masala is superior to store-bought garam masala. Whatever method you use to prepare your own garam masala, you should know that it is one of the most cherished components in Indian cooking and that it also has a lot of benefits of garam masala.
5 Garam Masala Benefits
Antioxidant Characteristics
One of the main benefits of garam masala is that it boosts immunity and acts as an antioxidant. Many Garam Masala constituents, including pepper, cinnamon, and cumin, have antioxidant characteristics that make them ideal for boosting resistance to common illnesses like cough and cold during the winter. Due to its high antioxidant content, this spice mixture reduces your risk of having a heart attack or stroke. The heart is strengthened by the antioxidants present in
whole spices
. Black pepper, which is present in garam masala, is believed to inhibit the formation of radicals that cause cancer.
Properties Reduce Inflammation
One of the key components of Garam Masala and a significant contributor to this benefit is cumin. Since it naturally reduces inflammation and relieves joint discomfort, the elders have always highlighted the importance of utilising this wonderful spice in almost all of our meals. It becomes one of the most essential spices in
Garam Masala
due to its delicious flavour and benefits of garam masala like lowering joint pain and treating inflammation. Garam masala's cinnamon helps the body by relieving pain and inflammation. Inflammatory disorders like arthritis can be effectively treated using cinnamon's anti-inflammatory properties. The inflammation and irritation of the body's joints is known as arthritis. Cinnamon aids in preventing certain pathways from harming the bones and joints. Clove, which contains the active substance eugenol, is an additional component of garam masala that functions naturally as an analgesic.
Promotes Loss of Weight
Garam masala seasoning not only enhances the flavour of food but also aids in weight loss. Cumin is one of the main components of garam masala. Cumin aids in temporarily raising metabolism after consumption. Phytosterols, a plant component that serves to stop the body from absorbing cholesterol, are present in large quantities in cumin. Another garam masala component that encourages healthy
weight loss
is nutmeg. Nutmeg is a versatile, delicious spice that has a high fibre content that can aid with satiety. Magnesium is also abundant in nutmeg. This mineral aids in the quick breakdown of lipids and cholesterol. Garam masala benefits is to enhancing the flavour of your dish. It strengthens your immunity while treating stomach problems. Coriander seeds, cumin, nutmeg, cardamom, cinnamon, mustard seeds, fennel, black pepper, and cloves all work together to create a potent antioxidant for the body. Garam masala helps your digestion and speeds up your metabolism. Being energetic and losing weight more quickly are both benefits of garam masala of an active metabolism.
Alleviates Digestive Problems
Fennel can calm abdominal turbulence, and it's thought that some of its constituents work to relax the colon and stimulate the digestive system so that food can be broken down easily. Like fennel, cardamom strengthens the digestive system.
Cardamom
has a cooling impact on the digestive system, easing the symptoms of nausea, vomiting, generalised stomach pain, and spasms as well as conditions like acid reflux. By encouraging the production of gastric secretions in the stomach, garam masala stimulates hunger and improves digestion, which are two of garam masala benefits.
Enhances Metabolism
The ingredients in garam masala are high in phytonutrients, which aid in accelerating metabolism. Particularly effective at speeding up the body's metabolism is pepper. These substances are also a good source of minerals, which aid in enhancing the performance of different body organs. In essence, this is a blend of many spices, including clove, cumin, cinnamon, etc. Garam masala benefits for persons following a weight reduction programme since it promotes weight loss just like the rest of these spices do. Just a teaspoon should be added to your meals.
Conclusion
Garam masala benefits with pepper and cardamom may also aid with digestion, for the proper digestion it is possible to loss weight easily. Digestion problems include indigestion, diarrhoea, constipation, and flatulence. These issues are widespread, and spices like garam masala can provide relief.
More Resources:
POPULAR SEARCHES
kala jeera | isabgol bhusi | black jeera benefits | barley seeds | buy spices online | whole spices | haldi powder | Roasted Snacks Online | Blended Spices Online | Online Masala Store